When my wife and I purchased our Hobie Kayaks we knew the second most important purchase would be a boat trailer. We were looking for a reliable, well constructed, yet easily managable trailer to meet our needs.
When I first inspected a Real Ezy Trailer I was pleased to see that all my criteria were met and then some. Construction matters to me. I liked what I saw in the Real Ezy Trailer. The suspension system, a critical point in my book, met my needs with a good, strong axle, heavy stock bearings which were easy source in the future, and stock wheels with good rubber on the road.
The heavy galvanizing on the trailer was superb which so important around the salt water environment where we use the trailer. I know when I'm on the road I can depend on my Real Ezy Trailer to get our kayaks from home to the water, where ever we go around Australia!
It's Aussie Built, Aussie constructed, and Aussie supported- I didn't want to put our boating investment to ride on some out- of- the- box imported trailer with questionable materials, galvanizing, and difficult to source parts.
-  Shep Shepard and Dr. Allison Duchow, MKF member & PADI MSDT Dive Instructor (Shep) and Surgeon (Allison), Grafton
---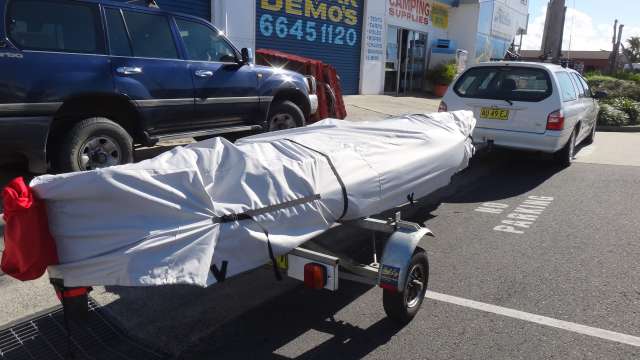 "While there are several trailers available for us to offer our Hobie kayak customers, we almost always just refer anyone who needs or wants a good trailer to Rob at Real Ezy Trailers. He does an excellent job (we only ever hear great feedback) and specializes in building trailers for several models of kayaks we specialize in, so its a bit of a symbiotic relationship that works well." - Doug Jenkins, Owner Operator, Maclean Outdoors
---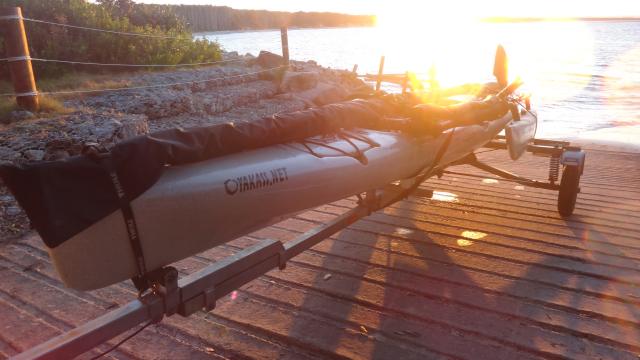 "I use my Hobie Adventure Island kayak a lot and quickly grew sick and tired of wasting time and breaking my back car-topping the thing, so naturally I turned to Real Ezy Rob (who has built more than a few trailers for these yaks) to customize a Barcoo folding trailer for me to transport it. This has made my life so much easier setting and packing up from kayak fishing trips, not to mention saving me a whole lot of time as well. Its taken a lot of the 'chore' out of 'fishing trip' and is worth its (relatively light) weight in gold!" - Josh Holmes, Editor of Modern kayak Fishing.com and creator of the Yakass Kayak Fishing Show
Kayak-ready Real Ezy trailer featured in Episode 5 of Yakass Kayak Fishing Show
---
Hello Rob,
I have just returned from six weeks trout fishing in the Central Highlands of Tasmania, accompanied by my Real-Ezy Barcoo fold-up trailer, and a Quintrex 370 Traveller atop my vehicle and a 15HP Yamaha 2Str. O/B motor mounted on the caravan A frame.
I cannot speak more highly about the performance of that little trailer. Low water levels on The Great Lake and surrounding lakes and lagoons meant all boat ramps (except Woods Lake) were closed and necessitated finding your own way to launch your boat. The Barcoo managed all of that in it's stride as well as the "goat track" into Woods Lake. When other fishermen saw the Barcoo at Woods they were most impressed it had managed the trek in there, but it was simply a matter of taking it at a moderate speed.
I went far and wide from Miena down to Dee Lagoon and Tarraleah and the trailer was just fantastic. It is so easy to launch and retrieve the boat, even as a "one-eyed" 70 year old, I managed it all with ease. Congratulations on producing such a wonderful and practical product. Without it I would have been severely restricted in where I fished. And yes, I got some great browns - up to 58cm long.
Kind regards,
Les Jones
Canberra